Our Story
With over ten years of experience under his tool belt, Middle Tennessee native Tom Vernon established Wood Works Custom in 2004, turning his passion for woodworking and craftsmanship into a profession he loves. WWC had its humble beginnings with four team members and only a 900 square foot shop, but over the past decade the team has tripled in number, comfortably growing into the now 6,000 square foot shop.
WWC strives to work integrity and diligence into each cabinet, putting the relationship with the customer above all else, and as a result, the majority of WWC business comes from personal referrals and repeat business with builders who wouldn't dream of getting their cabinets anywhere else.
Our Team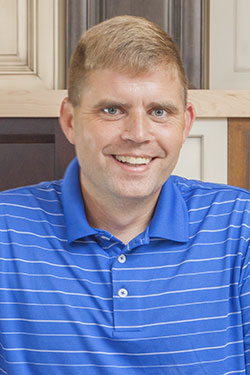 Tom Vernon, Owner
Growing up in the construction industry, Middle Tennessee native Tom Vernon has decades of construction experience. The love of design drove Tom to establish Wood Works Custom in 2004. His commitment and hard work has grown the company into the staple this community has come to know and trust.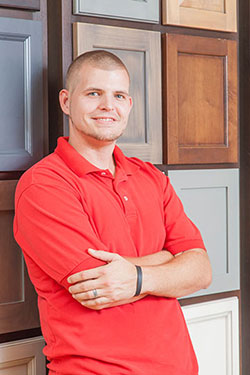 Micah Messer, Project Design Coordinator
Micah learned about camaraderie and working as a team from his time in the military, and it's that sense of camaraderie he has found at Wood Works Custom since early 2014. With experience in everything from construction to design, including holding multiple roles at Wood Works Custom, he loves being challenged by the complexity of the job, as well as the sense of satisfaction that comes with seeing a project progress on a daily basis.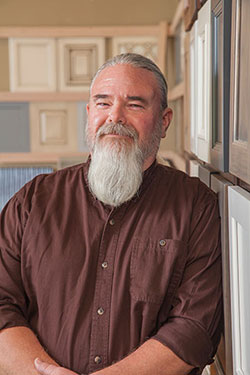 Mark Whittaker, Field Manager
A Franklin High graduate, Mark joined our team in 2013. He came to us with fifteen years of experience in cabinetry and a love for woodworking. A common phrase that can be heard around the shop is, "Don't Worry, Mark Will Fix It." Not only does Mark keep our machinery and equipment running, he spends most of his time on job sites ensuring each job receives the love, attention, and finishing touches!
Andy McComiskey, Operations Manager
With a Bachelor's of Business Administration from the University of Memphis, Andy joined our team in 2014 with thirty years of experience in management and logistics. Andy brings a well seasoned structure and cohesiveness to the team. Therefore, after holding multiple roles at Wood Works Custom, Andy is the perfect Lead for our Operations group. His love and skill for woodworking further informs his leadership within the team.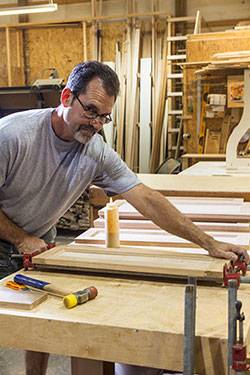 Hal Dixon, Operations
For Hal, the most rewarding and challenging part of the job has been learning new skills in his fifties and seeing the beautiful cabinets we produce. After almost a decade of experience in construction and remodeling, Hal came to Wood Works Custom in early 2013 and has loved the fellowship and laughter that he experiences every day when he comes to work.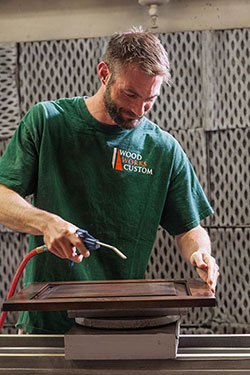 Dustin Jones, Finisher
A student of the arts and another of the team's finishers, Dustin joined Wood Works Custom in 2015 and brought fifteen years of experience in cabinet finishing and woodworking to our team. His experience was global, including Tokyo and Dubai, and he ensures each cabinet is artfully made, down to the last detail. He has done work for the Nashville Sounds, the Nashville Predators, Victoria's Secret, Abercrombie & Fitch and more. Dustin feels he didn't choose this work, the work chose him.
Don Gore, Operations Specialist
Don's experience in woodworking began as a hobby, a personal passion of his, before he pursued woodworking as a career. He became a Wood Works Custom team member in 2013 and brought twelve years of experience. Don's intricate attention to detail allows him to excel when he is constructing our specialty pieces and ornate hoods.
Kevin Bess, Operations
Bringing another thirty years of experience to the team when he joined in 2015, Kevin learned the cabinet-building business from the ground up in his uncle's shop. Over the years, his intuition has become fine-tuned to the desires and vision of the client, enabling him to understand the client's needs and to make them real.
Testimonials
"It was an absolute pleasure to work with Tom Vernon and his team. They were professional artisans from the design through the installation process. All of our cabinetry and wood work turned out beautifully. I highly recommend their quality of craftsmanship and service to anyone looking for custom cabinetry."
Kristina Detter
Tyne Kitchen
"A picture is worth a thousand words, and you can tell by the pictures that these guys don't mess around. Their workmanship is of the highest caliber, and they are a pleasure to work with. From design to execution, the entire process was professional and competent. If you want the best cabinet makers in town, look no further, you've found them."
Richard Howes, Maverick Construction
Fairfax Project
"We would not let anyone else design and build the cabinets in our home. Tom and his team are what we call the 'Picasso's of cabinetry' From the design, to the building, and installation they are true professionals. And the best part is their kindness and positive attitudes through-out the process. They were all about the details and doing it the right way to our satisfaction. And my wife and I are all about the details. Thanks Tom, to you and your team. We love all our cabinets in our kitchen, basement, laundry/mud room, and newly remodeled beautiful master bathroom."
Jay & CC
Homeowners